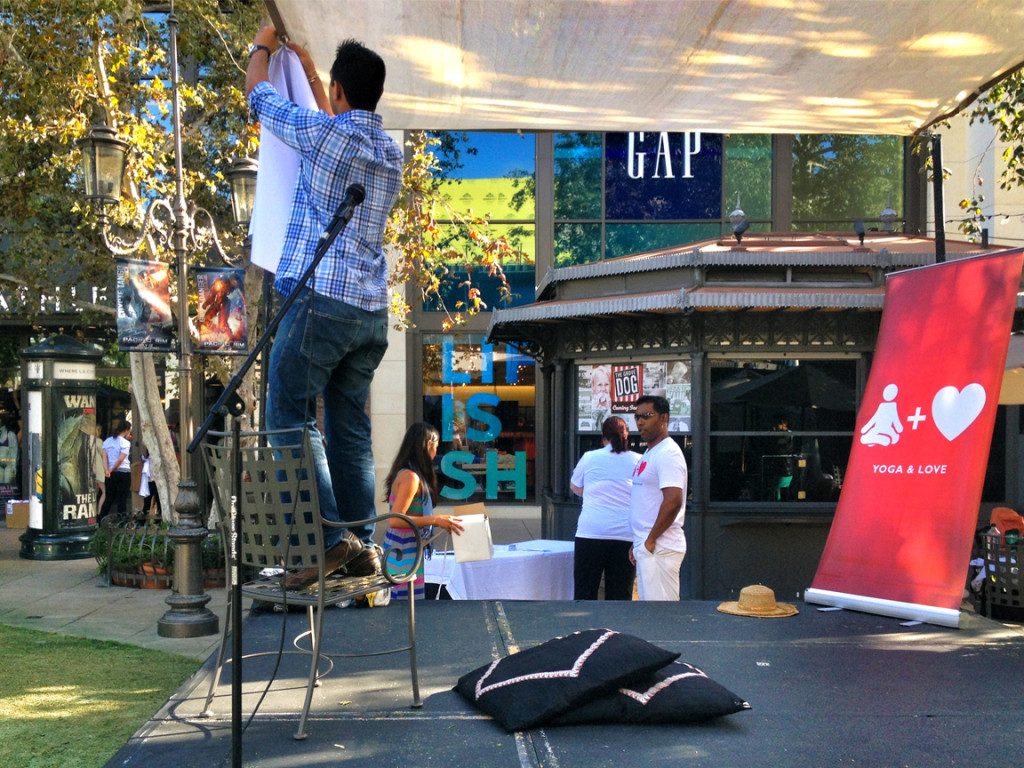 On June 21st, Yoga & Love hosted the first ever Hollywood Yoga Solstice Festival. The event took place at The Grove shopping center in Los Angeles, California. Free Yoga classes and seminars were held in the park area in front of the Athleta store and near the fountain.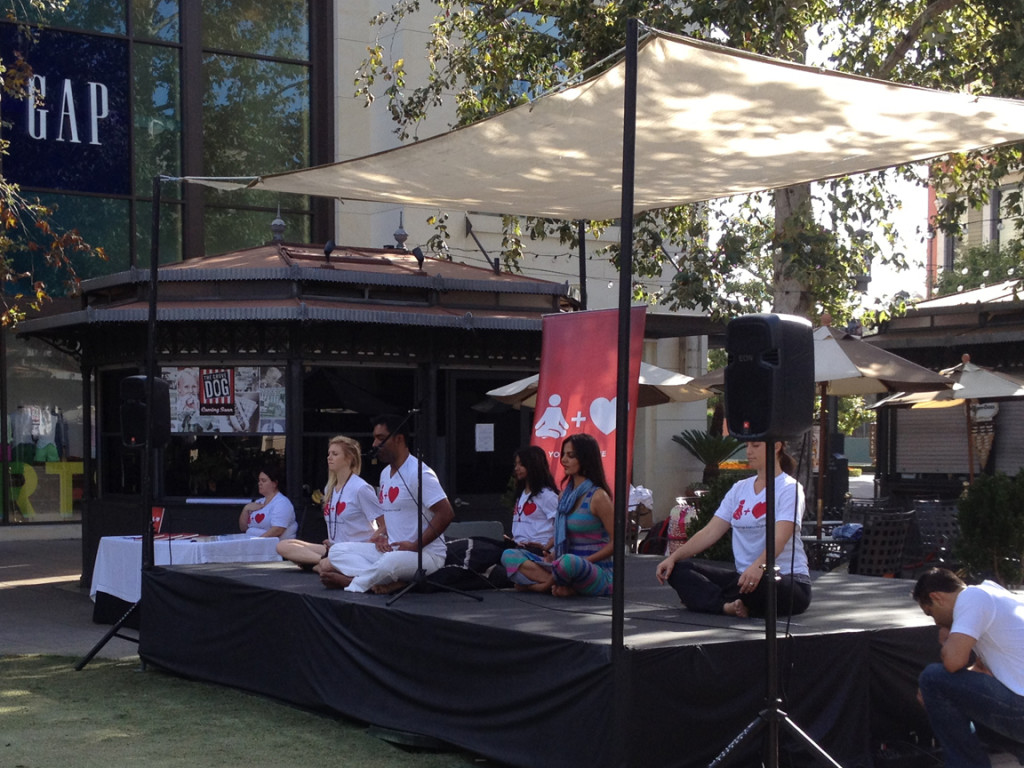 The festival morning started strong, silent and powerful with Vish Iyer leading a healing meditation where he stressed upon the importance of self healing before healing the world. The Yoga sessions kicked into high gear almost immediately after the meditation. The lovely and amazing Liz Arch inaugurated the first Yoga session. Thank God she did not insist on her guests to take her trademark one handed inverse pose.  You are a super woman, Liz!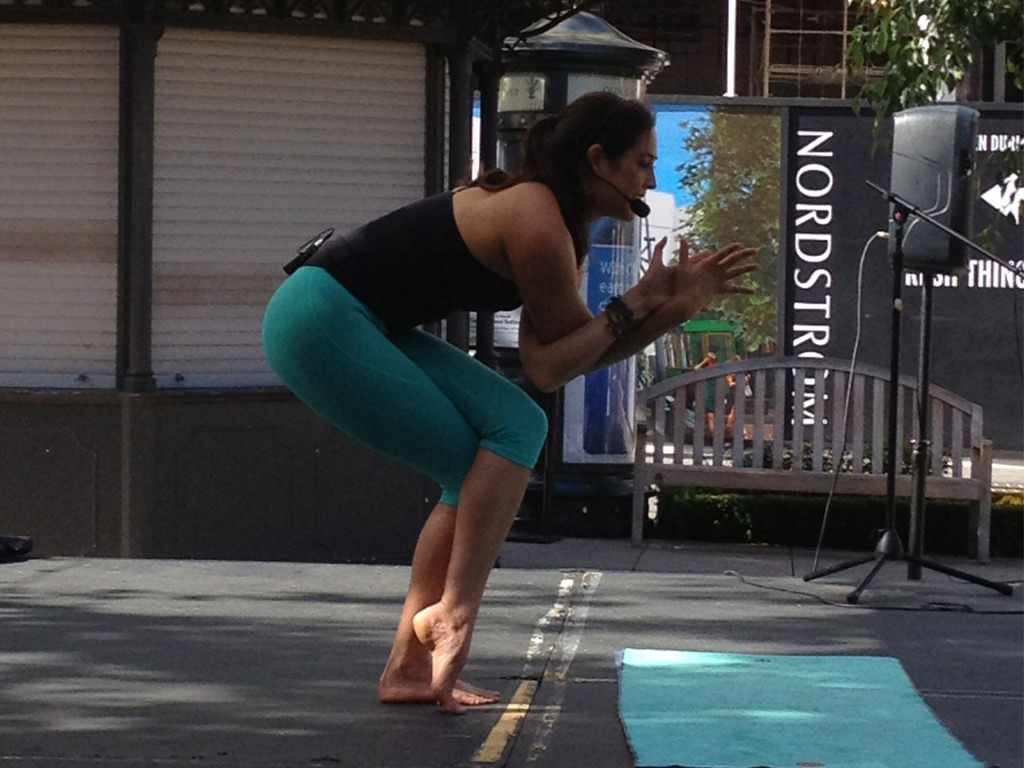 After Liz Arch's class we were fortunate to have a workshop presented by Arielle Greenwald from Breath Center. Vish had this to say about the workshop. "As Liz's class was going on full flow, I caught glimpse of Arielle and her team in a corner, quietly meditating on the grass. Yes, they were preparing, getting in tune for their healing session. How beautiful, what a sight to see Yogis coming together and getting in tune. The session was organized, planned and sublime. Two of her team members would constantly ensure that guests were comfortable. They had essential oils, incense and the whole, it smelt and felt perfect. We were transported to another world."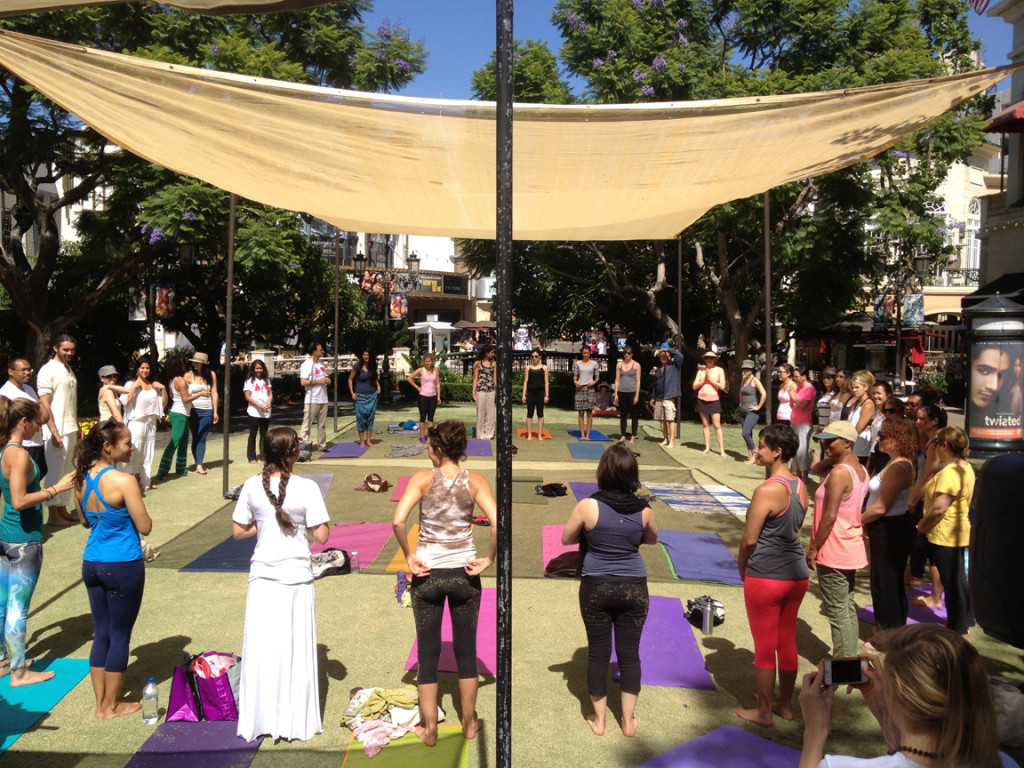 The energy remained high throughout the afternoon. The midday class focused on Kundalini Yoga and was led by the internationally acclaimed Kundalini instructor, Gurmukh. A volunteer who has never practiced Yoga summed up Gurmukh's class best, "If I had known, Yoga can be this much fun, I would have signed up for classes long time ago. " Gurmukh an embodiment of a Yogini, at once childlike and wise was a treat. The high energy Kundalini class was followed by a mellow Yogi Cameron who went through an asana sequence before giving attendants some valuable instruction on meditation and Pranayama. Cameron a fashion model turned Yogi explained the deeper aspects of Yoga and led a long and deep meditation as part  of this class.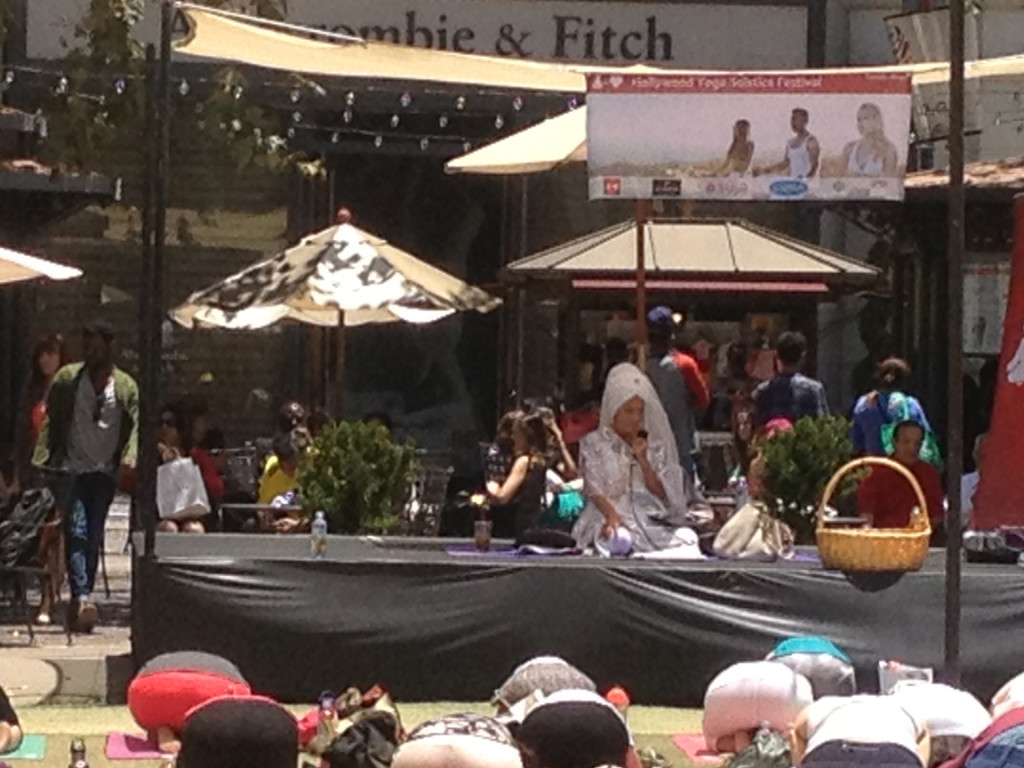 Yogi Cameron's session was a wonderful blend of Yoga Asanas and meditation. He began his session by teaching an invigorating Asana flow, complete with inversions for those brave enough to give them a try.  As the afternoon sun grew hotter, he guided attendees through Pranayama breathing and various meditation techniques. Yogi Cameron reminded us all that no matter where we are, even if we are in a crowded mall with all sorts of sounds, we can still find stillness and peace within and that we can make our Yoga practice unique to our individual needs.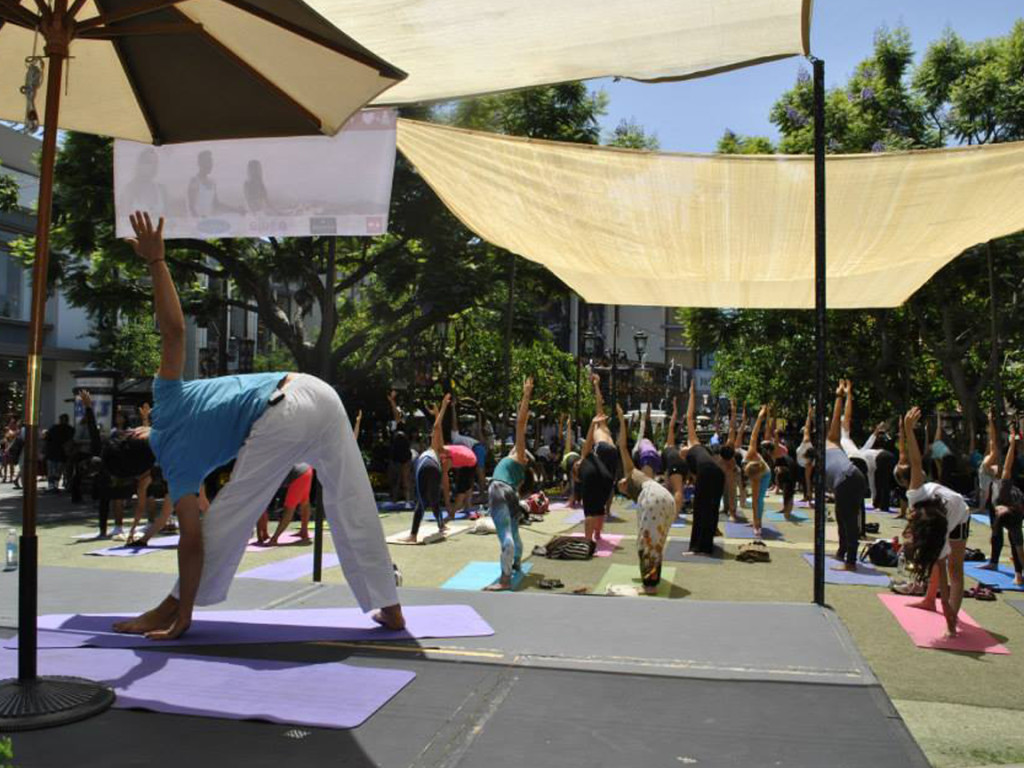 Our very own, Vish Iyer, gave a detailed talk about relationships in today's society, the issues young people face, as well as give a summary of the newly released Yoga & Love. One of the most memorable moments of his talk is when he turned to his wife, Deypika, and said "This book is a reality because of her."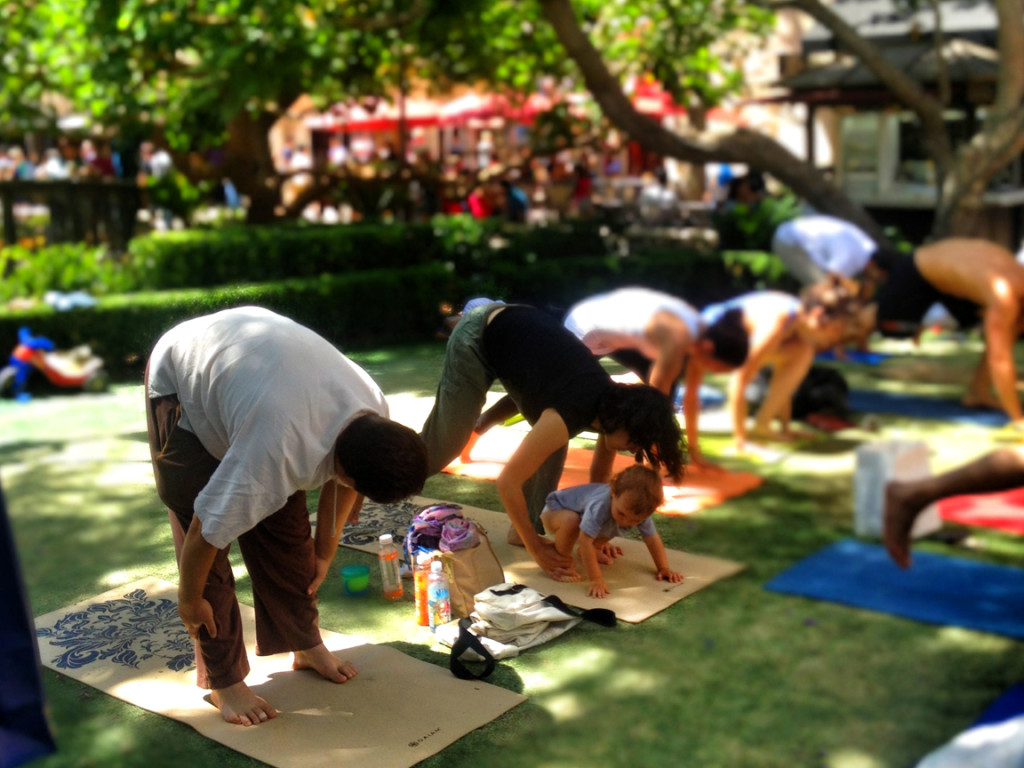 The positive, full of life, power of the summer solstice continued with a high energy Vinyasa  Yoga class taught by Sara Ivanhoe.  Sara, a dynamite of a Yogini even invited innocent bystanders into her class. The entire mall grooved to the high energy rhythmic Yoga poses of Sara. The celebration continued into the evening with a heartfelt and fun mantra concert with Karl Anthony that involved plenty of audience participation.  A lot of fun was had by many, including the Yoga & Love team. Hope had this to say about the concert. "I really loved Karl's energy! At first I wasn't sure what to expect from a mantra concert. My favorite parts were trying to do the hand signs to one of his songs and lots of laughs were had among the team. Even all of us got up and sang backup with Karl at one point. I didn't want it to end!"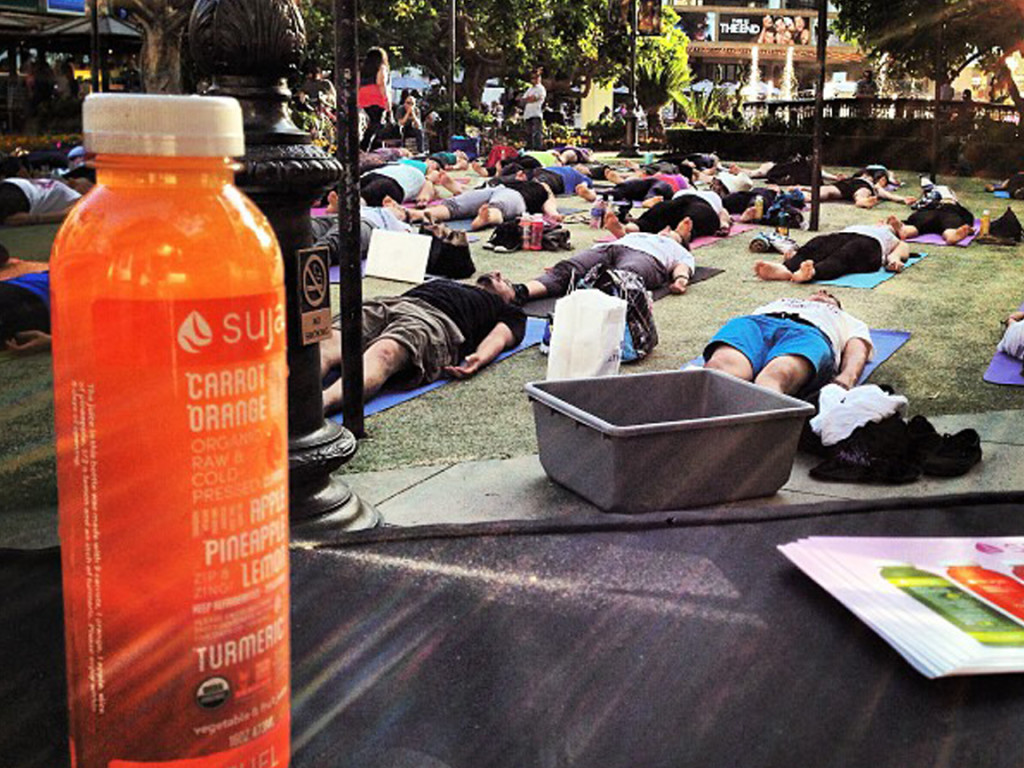 We were blessed to have many fantastic sponsors from Athleta, Suja Juice, Luna Bars, KIND Healthy Snacks, Golden Bridge Yoga, Breath Center, Nika Water, My Yoga Online, Amish Shah inc, Evergreen Profits, Moksha Fest, One Love Fest, Bhakti Fest, EcoDivas, Mudhen Merch, Reel Green Media, and Off The Mat. Suja Juice, Nika Water, KIND Healthy Snacks, and Luna Bar provided delicious and healthy refreshments for all who attended.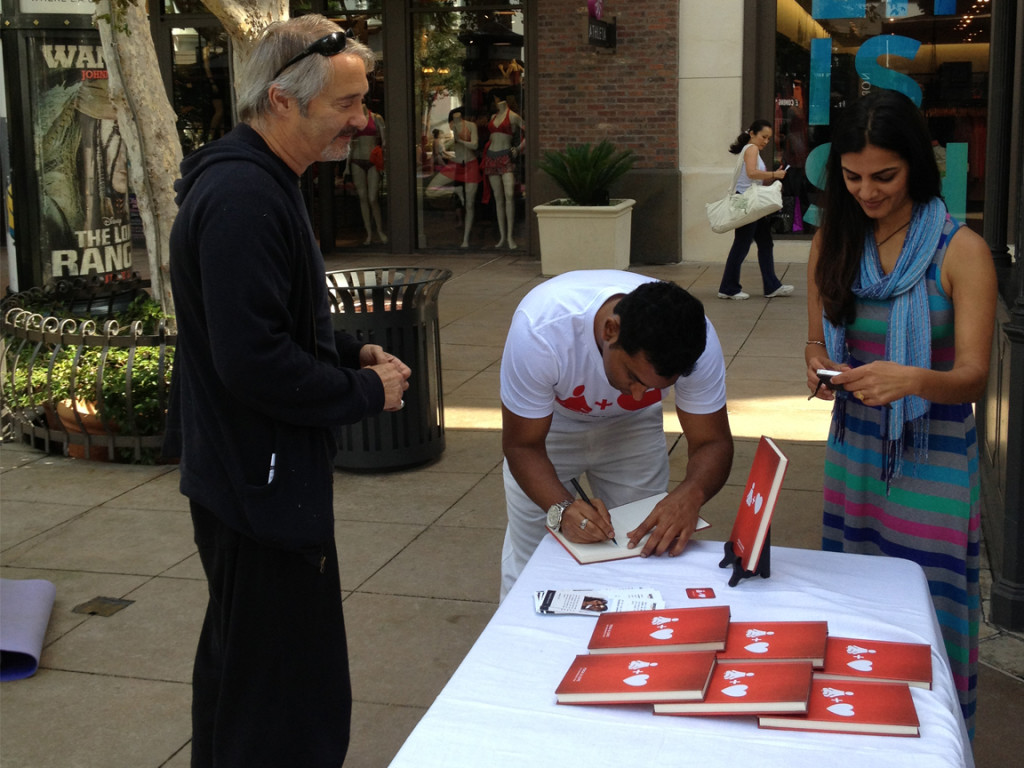 Alas such a wonderful day eventually came to a close as we big farewell to the sun and basked in the day's events while Vish Iyer led participants through the closing meditation amid the hustle and bustle of mall activity.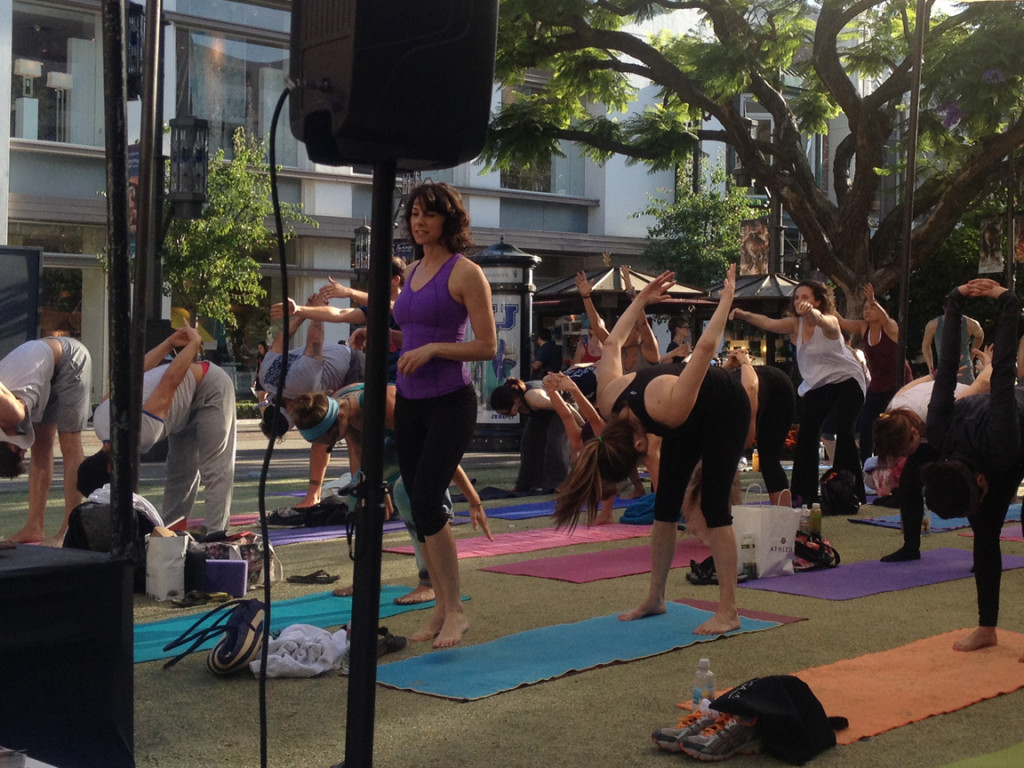 There are so many individuals  we are deeply grateful to from the sponsors, the many who have supported Yoga & Love, the Yoga & Love team members, to every individual who participated in the Hollywood Yoga Solstice Festival Without you this event would not have been possible, much less the incredible  success it ended up being. We hope to do it again next year!