As the creator of Primal Yoga, Liz Arch is known for her warm personality and approachable teaching style. Primal Yoga combines elements from various styles of Yoga and martial arts.
Liz Arch's teaching style is fun, innovative, and challenging, but accessible, for all levels. She takes the most joy in teaching students who normally would not have the financial means or access to Yoga on a daily basis. She also teaches free Yoga to women who are survivors of domestic violence.
Liz Arch is a firm believer in the healing power of Yoga and we are so privileged to have her teach her unique and fun style of Yoga at the Hollywood Yoga Solstice Festival. We are thankful for her taking time out of her busy schedule to answer some questions about the event as well as her thoughts on Yoga and LA.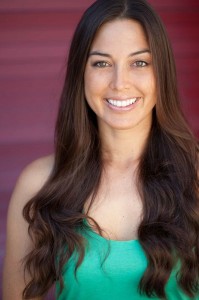 Q: What do you believe is the greatest benefit of Yoga?
A: When I first started yoga, the benefits for me were purely physical, but over the years, I've developed a much deeper connection to yoga and its capacity to heal on not just a physical level, but also a spiritual and emotional level.  I have been through many challenges in my life including divorce, abuse and the recent death of my mother, and my yoga practice has been there through it all, reminding me to stay present and take life one breath at a time.  Yoga has taught me that while I can't always control what goes on around me, I can always control and choose what goes on inside of me.  Instead of fear, worry or self-doubt, yoga has taught me to choose peace, acceptance and love.
Q:  How did you hear about the Hollywood Yoga Solstice Festival?
A:  I heard about the Hollywood Yoga Solstice Festival from my dear friend Michael Brian Baker.
Q: What made you want to participate in this event?
A: I grew up in a small town on Oahu, so I felt a bit lost in translation when I moved to Los Angeles. LA is home to some of the most incredible world-class yoga teachers, but in the city's vastness, I admit that I am often guilty of staying in my own little yoga bubble of Santa Monica.  I'm excited about the opportunity to bring our community together in celebration of the Summer Solstice and to honor the true spirit of yoga, to yoke or unite.  With free classes and lectures from sunrise to sunset, we are opening the doors for everyone to experience the healing power of yoga!
Q: What do you hope those who attend your session will gain from it?
A: My intention is to leave people with open bodies, open minds and open hearts. My class will be a playful and creative heart opening flow designed to make you feel good from the inside out. I love to express myself through movement and it is my hope that through the movement of our bodies and breath, we will uplift our spirits and hearts!
Q: What are you most excited for at the event?
A: I am excited and honored to share space with some of the world's best teachers and healers in such a non-traditional setting.
Q: What wisdom would you have for anyone coming to this event who is new to Yoga?
A: Come with an open mind and open heart!  Don't worry if you don't know the name of a pose or how to execute it perfectly.  Just stepping onto your mat is enough.  Let us come together to connect and celebrate!
Liz Arch will be teaching Primal Yoga at 8:30am to 9:45am. If you are interested in taking her class be sure to pre register at www.HollywoodYogaSolstice.com