Gurmukh is the co founder and director of Golden Bridge Yoga and we are so fortunate to have her come teach a session in Kundalini Yoga at the Hollywood Yoga Solstice Festival. A student of the Kundalini Yoga master, Yogi Bhajan, Gurmukh is also a pioneer in the field of pre-natal yoga.
Practitioners call Kundalini Yoga the yoga of awareness because it focuses on the expansion of sensory awareness and intuition in order to raise individual consciousness and merge it with the Infinite consciousness of God.
"Kundalini Yoga consists of active and passive asana-based kriyas, pranayama, and meditations which target the whole body system (nervous system, glands, mental faculties, chakras) to develop awareness, consciousness and spiritual strength." —Yogi Bhajan
We were fortunate to have an opportunity to ask Gurmukh a few questions about the Hollywood Yoga Solstice Festival.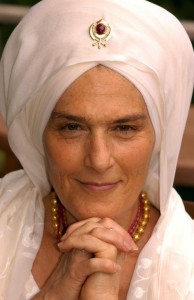 Q: What do you believe is the greatest benefit of Yoga?
A: To learn that the most important thing in life is love.
Q: How did you hear about the Hollywood Yoga Solstice Festival?
A: From Vish.
Q: What made you want to participate in this event?
A:  The event is based on yoga and love.
Q: What do you hope those who attend your session will gain from it?
A: An experience that yoga leads to self-love, which brings you to a state of health, happiness, prosperity, and knowing your purpose here on Earth.
Q: What are you most excited for at the event?
A: We actually are teaching at The Grove, and we're all together as One.
Q: What wisdom would you have for anyone coming to this event who is new to Yoga?
A: Just try it.  On Solstice Day, there's pure magic in the air.  Something amazing could happen that you couldn't even dream possible.
Gurmukh will be teaching Kundalini Yoga at 12:00pm to 1:30pm. Spaces for her session are filling very quickly so don't miss your opportunity to take her class.