Yoga + Love by Vish Iyer
Most people in America understand yoga as a great way to stay fit and healthy, but what we have come to know as Yoga is not even 10% of its full magnitude. Yoga has the power to transform every aspect of our lives, including the most precious part of all: our ability to find love. With divorce rates hovering around 50% in the United States, the way in which we enter and maintain relationships is clearly a huge and painful problem for many.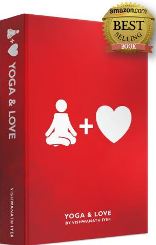 Yoga and Love, by Vish Iyer, identifies why we have so much trouble finding true love and teaches us step by step how to go about finding the love of our lives.
Through Yoga + Love, you'll discover how to:
• Clear out the emotional baggage that prevents you from attracting love
• Build your self-esteem and become emotionally self-sufficient
• Remain happy and retain a positive attitude under all circumstances
• Attract the love of your life and eliminate doubt in recognizing "the one"
• Manifest your entrepreneurial dreams
This is the first book in the western world that teaches how to find long-lasting, meaningful love through practicing the ancient wisdom of Yoga.
To buy Yoga + Love, please visit amazon.com
Customer Reviews:
"Yoga & Love is a treasure – a practical, applicable guide to raising your magnetism and attracting the things you want in life! It actually tells you exactly what to do! Amazing. And it doesn't have to just be about attracting a person, that is why I love this book so much – I feel like it is this perfect little red, hardback accompaniment to life – no matter where my journey takes me I feel confident knowing that the techniques and science behind the techniques are something I can apply to any situation. I have never found these ideas laid out so easily or in such an accessible way. What a blessing to have found this book – thank you to Vish Iyer the author and his wife Deypika for giving this invaluable information to me!" ~ Lauren
"It's a refreshing and practical guide to love, healthy living, finding your true calling in life, and increasing your magnetism. This book has profoundly impacted my life within just a few short weeks; raising my level of consciousness, refining my understanding of myself, of love, and the power that lie within. I also feel a stronger connection of love between myself and God. This book also serves as a great gift." ~ Paul P.
"Beginning the 6 month breathing technique has created a deep sense of clarity and confidence. As a whole, mind, body and spirit I feel as though I am fully flowing the rhythm in myself as well as in life. So grateful and honored to understand this powerful action that is changing my life forever! It works! I believe in the truest helpmate! So excited for my journey to continue! " ~ Ashley Rouillard
"I highly recommend this book to anyone who is interested in self improvement, love, and relationships."~ Jessica Vance
"Yoga & Love is a treasure – a practical, applicable guide to raising your magnetism and attracting the things you want in life!"~ Lauren
Read more customer reviews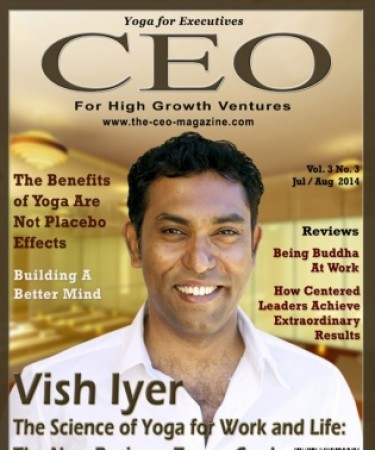 Often described as a maverick, rebel Yogi, speaker, author, actor, workout junkie, coach and entrepreneur, Vish is a rare cocktail of spirituality, science and entrepreneurship. His own 30-year meditation practice – combined with a Brahmin family lineage that has produced several generations of Vedic Yoga scholars & masters – has instilled in Vish a diehard belief that solutions to all human problems (including finding romantic love) lies in living a Yoga lifestyle. Visit CEO Magazine
Given his undergraduate and graduate degrees in fields as varied as biology, french, information systems and business, it is ironic to see his extraordinary insight into the psyche of love. Vish's strength lies in his intuitive ability to help anybody find love, no matter how many times you have failed in relationships. His optimism spills from his own experience and his unique scientific yoga methods of finding love. Vish has had careers in the software and real estate industries and had single handedly built & controlled a real estate portfolio of $55 million in less than two years and in the next two years lost it all.
Vish has lived in India, Southern Africa and the U.S., presently lives in Los Angeles with his wife Deypika. He considers getting laid off from his software consulting position as one of his greatest blessings as it liberated him to purse his Dharma. In his free time, he can be found drinking chai, laughing, watching movies with his wife or boxing away in a Mixed Martial Arts gym. His motto in life is "find happiness within first; all good things will follow."
He is at the moment excitedly awaiting both the release of his book Yoga and Love and his first movie as a lead in Hollywood.